As part of my research I have collated all the spellings of the surname and 'Licorish' first appeared to my knowledge in the UK records in a Will index, the entry is for a Berkeley Dalrymple Licorish a resident of St Michael Barbados. The General Registration Office Index has its first entry in the birth section in 1957 December Quarter, district of Bath, Somerset.The first marriage was in June Quarter 1961 at Kensington and Death June 1965 at Hammersmith, London.
In 2005 I visited Barbados only to find a village on the island named 'Licorish' of course I had to visit which I did When I arrived at the village a local resident Mr Cedric White spoke to me and told me the history of the village and how it got it's name.It was called Licorish village after a Doctor Licorish from the UK settled there many years ago. This of course set me a challenge, to try and find this Doctor.
In 2007 I visited Barbados again and this time I managed to do some research at the island archives at Black Rock with the assistance of the very helpful staff. From records I believe the Doctor to be a Richard Morris Licorish who married Mary Ann Pilkington in Bridgetown in 1825. From wills and deeds, another family who had a large interest in the Island is a Edward Licorish who married Mary Kellman in 1781 at St Lucy. Both these family lines, as I have them, are listed on the site.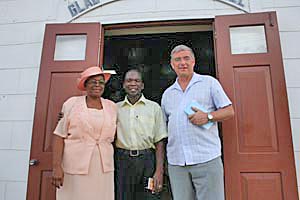 This picture was taken in January 2007 it shows from left to right Amelda Benskin her son Wesley and myself, it is on the steps of the church which they attend, I along with my wife and sister attended the service and were made most welcome by the whole congregation. Wesley works at the hotel where I stayed and in conversation established that his Grandmothers maiden name was Licorish
If anyone has any information regarding the surname or descendants of the families I would appreciate it.
PLEASE NOTE. Copying or distribution of any material in this data base without the express permission of the compiler is forbidden.